Quick link to take action in Maryland >>
January 2020, Delegate Vaughn Stewart proposed an updated and improved version of Maryland's Green Amendment. HB 517 would add a Green Amendment to the bill of rights section of Maryland's constitution. Delegate Vaughn was joined by Delegates Boyce, Cardin, Charkoudian, Kettleman, Korman, R. Lewis, Lierman, Moon, Mosby, Smith, Stein and Wells.
A new webinar, including Delegate Stewart, Green Amendment founder Maya van Rossum, as well as others from the strong and growing coalition being organized by our partner Waterkeepers Chesapeake can be viewed here. (Photo of hearing to right.)
van Rossum joined Delegate Stewart, Waterkeepers Chesapeake and youth leaders from around the state testified in support of the Green Amendment proposal at a hearing held February 19, 2020. While the Green Amendment did not advance out of committee, the hearing demonstrated powerful support for the concept. View hearing video here.
MD Green Amendment partners along with Green Amendments For The Generations include Waterkeepers Chesapeake, Interfaith Power & Light, Earthworks, the MD Legislative Coalition, MD 350, CMEC Council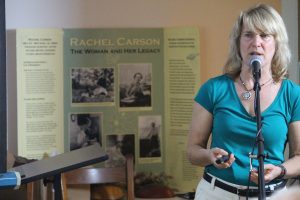 May 2019, Maya van Rossum, the founder of the Green Amendments For The Generations movement was honored to deliver the keynote address at the annual Rachel Carson Open House in Maryland, hosted by the Rachel Carson Landmark Alliance, in the same house where Carson wrote the seminal Silent Spring. The mission of the Green Amendment movement resonates with Rachel Carson's visionary observation that "if the Bill of Rights contains no guarantee that a citizen shall be secure against lethal poisons distributed either by private individuals or public officials, it is surely only because our forefathers, despite their considerable wisdom and foresight, could conceive of no such problems."
The Maryland Green Amendment, as proposed, would explicitly protect the right to a healthy environment now and in the future by enshrining it in the state's declaration of rights. It proposes lasting protections for breathable air, drinkable water, and makes the state a fiduciary for equal access to a healthy environment. It establishes nature as a trust held in common, with the state as trustee, and includes the right to a balanced and stable climate.
Background:
On March 6, 2018, Maryland's Senate Committee on Education, Health, and Environmental Affairs held a hearing regarding the first modern iteration of a proposed Maryland Green Amendment. The legislative session ended without a vote being taken on the proposal. This was fine because while the proposal had many of the basic fundamentals needed in a successful Green Amendment, there was also some language of concern that Green Amendments For The Generations advocated be removed or changed. You can read about that in the testimony submitted by clicking here.
A second proposal was advanced in 2019, HB 472. The Committee on Environment and Transportation held a hearing on February 20, 2019 with many speaking in support. You can read the testimony submitted by Green Amendments For The Generations founder Maya van Rossum here. Again, no vote was actually taken. And ultimately the proposal was withdrawn for a variety of reasons having nothing to do with the public support for the Maryland Green Amendment or the support of key legislators. It was a political decision but one that should not stop forward progress.
January 2020 Delegate Vaughn Stewart proposed HB 517 with improved language designed to consider the feedback secured from other legislators and the public. View hearing video here.
The community effort to pass a Maryland Green Amendment is growing. If you are interested in being a part of the effort, or have any questions, please get in touch with us.
---
Maryland Delegates Sponsoring the Green Amendment
Name
Sponsorship
District
Party
Vaughn Stewart
Primary
19
D
Gabriel Acevero
Cosponsor
39
D
Regina Boyce
Cosponsor
43
D
Jon Cardin
Cosponsor
11
D
Lorig Charkoudian
Cosponsor
20
D
Shelly Hettleman
Cosponsor
11
D
Terri Hill
Cosponsor
12
D
Marc Korman
Cosponsor
16
D
Mary Lehman
Cosponsor
21
D
Robbyn Lewis
Cosponsor
46
D
Brooke Lierman
Cosponsor
46
D
David Moon
Cosponsor
20
D
Julie Palakovich Carr
Cosponsor
17
D
Jared Solomon
Cosponsor
18
D
Dana Stein
Cosponsor
11
D
Jen Terrasa
Cosponsor
13
D
Veronica Turner
Cosponsor
26
D
Melissa Wells
Cosponsor
40
D
Pat Young
Cosponsor
44B
D
STATUS DOCUMENTS