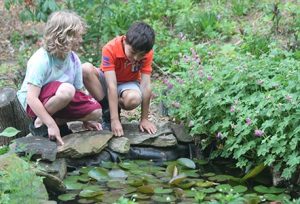 February 11, 2019, a group of West Virginia delegates proposed a Green Amendment be added to the state constitution.  The provision, House Joint Resolution 25 is modeled on Pennsylvania's Green Amendment and would add a right to pure water, clean air and a healthy environment to the Bill of Rights section of the W.Va. Constitution.  These delegates have taken this step by their own initiative, let's all work to rally around and support this forward thinking and progressive step.
The primary sponsoring delegate is Evan Hansen. He is joined by 21 cosponsors. Click here to see all sponsors.
HJR 25 has been referred to the Committee on Agriculture and Natural Resources, and then to the Judiciary Committee.
For the Generations is looking forward to working with the W.Va. delegates and communities interested in obtaining a Green Amendment.
If you want to take steps to advance a Green Amendment in your home state, go here.
West Virginian Delegates Sponsoring the Green Amendment
WV Delegates
Name
Sponsorship
District 
Party 
Evan Hansen
Primary
51
D
Tim Miley
Cosponsor
48
D
Danielle Walker
Cosponsor
51
D
Lisa Zukoff
Cosponsor
04
D
Barbara Fleischauer
Cosponsor
51
D
Thompson
Cosponsor
43
D
John Doyle
Cosponsor
67
D
Amanda Estep-Burton
Cosponsor
36
D
Sammi Brown
Cosponsor
65
D
Rodney Pyles
Cosponsor
51
D
Phil Diserio
Cosponsor
2
D
Andrew Robinson
Cosponsor
36
D
Cindy Lavender-Bowe
Cosponsor
42
D
Isaac Sponaugle
Cosponsor
55
D
Rodney Miller
Cosponsor
23
D
Kenneth Hicks
Cosponsor
19
D
Linda Longstreth
Cosponsor
50
D
Joe Canestraro
Cosponsor
4
D
Chad Lovejoy
Cosponsor
17
D
Andrew Byrd
Cosponsor
35
D
Mick Bates
Cosponsor
30
D