What is a Green Amendment?
Green Amendments are self executing provisions added to the bill of rights section of a constitution that recognize and protect the rights of all people. regardless of race, ethnicity, religion or income, including future generations, to pure water, clean air, a stable climate, and healthy environments.
What's Happening in New Jersey?

In 2020 the proposed Green Amendment bills ACR80/SCR30 (formerly ACR85/SCR134) were re-introduced to the New Jersey legislature.
As of October 2020, the proposed NJ Green Amendment has 42 sponsors in the Assembly and 12 sponsors in the Senate. Click here to see if your legislator is signed on! If they have not, consider reaching out to them and sharing your opinion on this powerful environmental protection idea.
As proposed the New Jersey environmental rights amendment would read as follows:
(a)  Every person has a right to a clean and healthy environment, including pure water, clean air, and ecologically healthy habitats, and to the preservation of the natural, scenic, historic, and esthetic qualities of the environment.  The State shall not infringe upon these rights, by action or inaction.
(b)  The State's public natural resources, among them its waters, air, flora, fauna, climate, and public lands, are the common property of all the people, including both present and future generations.  The State shall serve as trustee of these resources, and shall conserve and maintain them for the benefit of all people.
(c)  This paragraph and the rights stated herein are (1) self-executing, and (2) shall be in addition to any rights conferred by the public trust doctrine or common law.
On the Senate side there is bi-partisan support. Senator Linda Greenstein (D-14) has led the charge and been joined by Senator Kip Bateman (R-16) to advance SCR30.  On October 15, 2018, a bipartisan super-majority of the Senate Environment Committee passed SCR134. If you are interested to learn more about the impact of the proposed NJ Green Amendment, you can view the hearing at this link – the testimony was interesting, insightful and educational.
On the Assembly side, Assemblywoman Nancy Pinkin is  joined by Assemblyman John McKeon and Assemblyman Daniel Benson as the primary sponsors of ACR80.
View all the sponsors of the bill here.
Who are our Partners in the state?
Green Amendments For The Generations has been working in partnership with the Delaware Riverkeeper Network, as well as Clean Water Action, NJ Highlands Coalition, NJ Sierra, Environment NJ, and a team of committed attorneys from the state to lead the effort.
Upcoming Events
Here's The Story, an Emmy nominated show that premiered in 2011 and is produced by acclaimed journalist Steve Rogers, is now featuring a two part show featuring the Green Amendment movement.  With a focus on New Jersey as a case study, the show joins Maya as she explores the history of the Green Amendment movement and meets with environmental, political and legal leaders key to the movements past, present and future.  Among those interviewed is Governor Phil Murphy, PA Senator Franklin Kury who originally conceived of the idea for PA, and the chief justice who wrote the iconic opinion that helped launch the movement.  You can watch the show, see  Facebook live chats with some of the key players, and see the full interviews that were conducted as part of the show here: Here's the Story: The Green Amendment.
Take Action
If you think this is an idea whose time has come, we need your signature on the petition we will be delivering to every assembly and senate member when the time is right, please sign on and share this link with friends and family: http://bit.ly/ISupportaNJGreenAmendment.
If you are head of an organization, consider joining the organization sign on letter to show your organization's leadership on this statewide issue.
Want do to even more?  Take this model resolution to your town leaders  or county freeholders and urge them to pass their own.  Want help making the proposal?  Get in touch and we will schedule a time when Maya van Rossum, founder of this movement and the Delaware Riverkeeper, can join you to make the ask and answer any questions.  Simply email us at gaftg@forthegenerations.org.
It is important we continue to build strong support for this proposal.  Every member of the New Jersey legislature should support protecting environmental rights as an inalienable human right.  Send your letter today to your assembly member and senator and urge them to be vocal and active in support.
Want to be sure you do everything you can to help, and have a solid list of to dos you can share with a friend? Here are SEVEN things you can do.
Resources to help you learn more and spread the word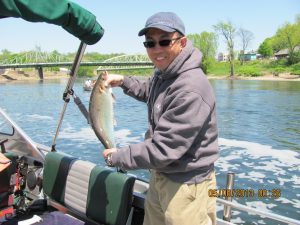 Wondering the questions that legislators and leaders ask about the Green Amendment concept and the best way to answer them?  Take a look at our frequently asked questions sheet focused on NJ
New Jersey has a history of environmental racism that carries forward to this day.  Among the benefits of a Green Amendment is that it will require equity in how New Jersey residents and communities are treated so there can be no more environmental sacrifice zones.  If you want to learn more about New Jersey's history of environmental racism here is a powerful piece: Sowing the Seeds of Environmental Justice.
DOCUMENTS TO HELP GET YOU INFORMED &  ENGAGED
RESOLUTIONS IN SUPPORT OF A NJ GREEN AMENDMENT
PRESS
How and When did this all start in the great state of New Jersey?  
November 30, 2017,  New Jersey Assemblyman Tim Eustace, joined by Maya van Rossum, the Delaware Riverkeeper, Assemblywoman Pinkin and Assemblywoman Sumpter, announced new legislation that, if passed, would amend Article 1 of the state constitution to recognize that "Every person has a right to a clean and healthy environment….", that the State has a duty to serve as trustee of the state's natural resources, and must conserve and maintain them for the benefit of all people.  Since its original proposal there has been significant forward progress.
---
New Jersey Legislators Sponsoring the Green Amendment
NJ Senators
Name
Sponsorship
District
Party
Linda Greenstein
Primary
14
D
Christopher Bateman
Primary
16
R
Richard Codey
Cosponsor
27
D
Joseph Vitale
Cosponsor
19
D
Nilsa Cruz-Perez
Cosponsor
05
D
Shirley Turner
Cosponsor
15
D
Loretta Weinberg
Cosponsor
37
D
Vin Gopal
Cosponsor
11
D
Nia Gill
Cosponsor
34
D
Patrick Diegnan
Cosponsor
18
D
Robert Singer
Cosponsor
30
R
Fred Madden Jr
Cosponsor
4
D
NJ Assembly Members
Name
Sponsorship

District

Party

Nancy Pinkin
Primary
18
D
John McKeon
Primary
27
D
Daniel Benson
Primary
14
D
Mila Jasey
Cosponsor
27
D
Andrew Zwicker
Cosponsor
16
D
Verlina Reynolds-Jackson
Cosponsor
15
D
Raj Mukherji
Cosponsor
33
D
Valerie Vainieri Huttle
Cosponsor
37
D
Linda Carter
Cosponsor
22
D
Thomas Giblin
Cosponsor
34
D
Jamel Holley
Cosponsor
20
D
Ralph Caputo
Cosponsor
28
D
Carol Murphy
Cosponsor
7
D
Joann Downey
Cosponsor
11
D
Eric Houghtaling
Cosponsor
11
D
Robert Karabinchak
Cosponsor
18
D
Shavonda Sumter
Cosponsor
35
D
Shanique Speight
Cosponsor
29
D
Yvonne Lopez
Cosponsor
19
D
Annette Chaparro
Cosponsor
33
D
Cleopatra Tucker
Cosponsor
28
D
Benjie Wimberly
Cosponsor
35
D
Angela McKnight
Cosponsor
31
D
Joe Danielsen
Cosponsor
17
D
Clinton Calabrese
Cosponsor
36
D
Pedro Mejia
Cosponsor
32
D
Kevin Rooney
Cosponsor
40
R
James Kennedy
Cosponsor
22
D
Britnee Timberlake
Cosponsor
34
D
Vincent Mazzeo
Cosponsor
1
D
John Armato
Cosponsor
1
D
Lisa Swain
Cosponsor
38
D
Gabriela Mosquera
Cosponsor
4
D
Robert Clifton
Cosponsor
12
R
Holly Schepisi
Cosponsor
39
R
P. Christopher Tully
Cosponsor
38
D
Sean Kean
Cosponsor
30
R
William Moen
Cosponsor
5
D
Roy Freiman
Cosponsor
16
D
Anthony Verrelli
Cosponsor
15
D
William Spearman
Cosponsor
5
D
---