Our 3rd Annual National Green Amendment Day was a GRAND SUCCESS!
Green Amendments For The Generations is making powerful change in the 3 states that have them and is helping communities in 15 additional states seek their own Green Amendment protections. To keep this movement growing and to fend off growing industry misinformation campaigns and opposition, we need your support. Please consider making a contribution to help support transformational environmental protection, environmental justice, climate justice and generational protection.
We celebrated our 3rd annual National Green Amendment Day with videos, engagement, and live programming that demonstrated the powerful ways Green Amendments are empowering environmental law and advocacy.
Videos from grassroots activists, everyday people, adventure seekers, lawyers, and from all generations, all shared why they are prioritizing the advancement of a Green Amendment in their state. These video shorts truly show this is a people powered movement.
If you missed the videos as they aired Green Amendment Day, no worries, you can check them out now: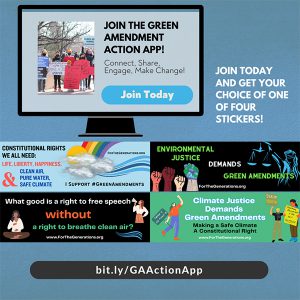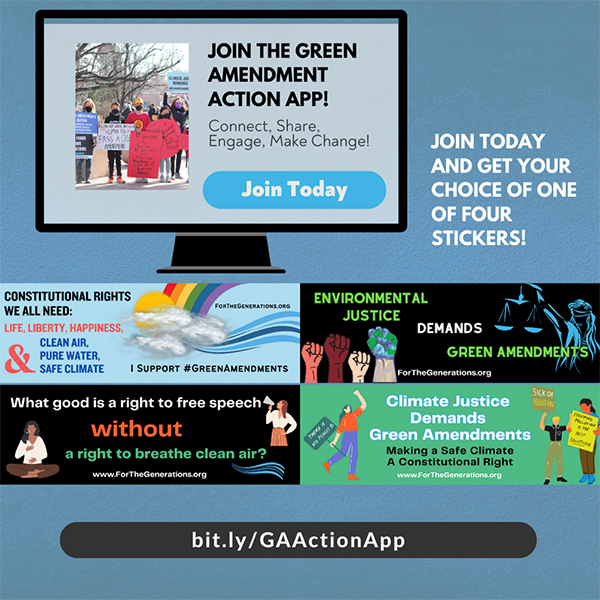 People joined the new our Green  Amendment Action App, which is going to be a great space for Green Amendment communities to share information, learn the latest news, and receive notice of time sensitive action opportunities taking place in their state or nationwide.
We will soon be placing special content -- including trainings and more -- that will only be available on the app.   For those who sign up, you will receive your choice of one of four new great Green Amendment Stickers to put on your car, window, computer, anywhere to show the world you support constitutional Green Amendment protection for environmental rights and justice.
During our Green Amendment Day Live program, 8 knowledgeable attorneys including Founder Maya van Rossum and her cohost Florida Green Amendment leader Melissa Martin, to share real world examples of how Green Amendment Environmental Rights Protections are bringing powerful change to the 3 states that have them.
In Pennsylvania, Montana and New York – the 3 Green Amendment states – Green Amendments are inspiring government officials to make better decisions, and when government stubbornly refuses to fulfill their responsibility to protect natural resources and environmental rights, people are engaging the courts to help ensure critical, fair, equitable and essential protections.  Watch the program below:
Our National Green Amendment Day Live Panel featured:
Hosts:
Maya K. van Rossum is the founder of Green Amendments For The Generations movement and organization, a national nonprofit organization dedicated to inspiring passage of Green Amendments in every state constitution across our nation, and also at the federal level when the time is right.  Green Amendments -- a term coined and defined by Maya in her 2017 award winning book (recently updated in the 2nd edition, The Green Amendment, The People's Fight For a Clean, Safe, and Healthy Environment) -- recognize and protect environmental rights on par with other inalienable human, civil and political freedoms. She is also the Delaware Riverkeeper and 30 year leader of the regional Delaware Riverkeeper Network.
Melissa Martin is a Retired Judge Advocate, U.S. Marine Corps, Former Adjunct Professor of Water Pollution Law and Environmental Ethics, and current Campaign Coordinator for the Florida Right to Clean Water ballot initiative. Martin recently co-authored POV: The laws we thought were protecting us and our environment really don't (Fast Company) with Maya van Rossum.
Panelists:
Katrina Kuh, Haub Distinguished Professor of Environmental Law, Pace University:  Professor Kuh's scholarship focuses on climate change and sustainability and she has taught Environmental Law, International Environmental Law, Global Climate Change and U.S. Law, Administrative Law, and Torts.  She is the co-editor of The Law of Adaptation to Climate Change: United States and International Aspects. Before entering academia, Professor Kuh worked in the environmental and litigation practice groups in the New York office of Arnold & Porter LLP and served as an advisor on natural resource policy in the United States Senate.
Mark L. Freed, Esq. of Pennsylvania is a partner at Curtin & Heefner LLP with a focus on Public Sector Law and Environmental Law and Litigation. Freed has worked on the responsible and strategic implementation of PA's Green Amendment in a number of cases and assisted in promoting Green Amendment legislation in across the country.  Freed also served eight years as counsel with the Pennsylvania Department of Environmental Protection two years as a criminal prosecutor in the Pennsylvania Attorney General's Environmental Crimes Section.
Kacy Manahan joined the Delaware Riverkeeper Network as a staff attorney in 2020. Her work focuses on challenges to natural gas infrastructure, federal permitting challenges, and state environmental and land use law. Prior to joining the Delaware Riverkeeper Network, Manahan practiced environmental law in a private boutique firm in New Jersey. Manahan also served as a clerk to the Honorable Robert J. Gilson, J.A.D., in the Superior Court of New Jersey, Appellate Division. Manahan graduated magna cum laude from Lewis & Clark Law School in Portland, Oregon, with a Certificate in Environmental, Natural Resources, and Energy Law. She obtained her Bachelor of Arts in Media and Communications from Ursinus College in Collegeville, Pennsylvania. Manahan is licensed to practice in New Jersey and Pennsylvania.
Ivonne Norman, Esq.: Ms. Norman is a civil litigator, environmental justice advocate and non-profit board leader. Ms. Norman is Co-Chair of the Environmental Justice Committee at the New York State Bar Association and the founder of the EJ Newsletter. The Committee's May 2023 Newsletter featured pending litigation asserting causes of action under New York State's Green Amendment which continue to shape its interpretation across the state. In addition, her recently co-authored article "Extreme Heat Meets Environmental Injustice: Policy Solutions to Help Disadvantaged Communities Battle the Urban Heat Island Effect," featured in the latest issue of NYSBA's The New York Environmental Lawyer, provides an analysis of the Green Amendment and how its implications and enforcement are being tested in the courts. Ms. Norman is also a member of the Environmental Law Committee at the New York City Bar Association and of WE ACT For Environmental Justice.
John M. Smith,  Esq.: John is a partner and co-founder of the law firm of Smith Butz, LLC.  He focuses his practice in the areas of Oil and Gas Law, Commercial Litigation, Zoning and Land Use Law, Corporate Law, and Municipal Law.  John played a pivotal role in developing the legal challenge that helped to spark the Green Amendments For The Generations movement.   John is at the forefront of Oil and Gas Lease issues, Local Zoning regulations on drilling activities, and the litigation of ownership of these valuable resources.   John, along with other prominent Pennsylvania counsel, represented the Petitioner/Municipalities in the "Act 13" challenge before the Pennsylvania Supreme Court in Robinson vs. Commonwealth wherein the Court found recent amendments to the Pa Oil and Gas Act, "Act 13", unconstitutional. The law firm of Smith Butz has licensed attorneys that practice in Pennsylvania, West Virginia, Ohio and New Jersey.
Michael Molinaro, Esq.: Michael is the principle attorney at the Law Offices of Michael K. Molinaro.  Michael is also a Marple Township, Delaware County, PA attorney who helped lead the decision to save the Don Guanella Woods from development using the Pennsylvania Green Amendment as well as leading other legal successes of precedent setting support.
Powerful support is building ....
But so too is the opposition
Green Amendments exist in 3 states already, with 15 more joining the movement and advancing Green Amendment language.
As the power and transformational protection of Green Amendments is increasingly recognized, more communities and states are joining the movement in support, but the opposition is turning out too.  Industry is marshallling their voices and money in opposition to Green Amendment action - testifying in opposition, running ads of opposition, and lobbying beyond the scenes using their bit money and outsized influence.
But the power of the opposition doesn't matter.  
The fundamental logic and fairness of Green Amendment protection is simply too powerful. 
Help us make the case for the powerful importance, protection and inspiration of our Green Amendments For The Generations movement.