On Wednesday, July 13th, 2021, the GAFTG team is hosting our 2nd Annual Green Amendment Day (virtual), "Green Amendments: Transforming Environmental Rights from Rhetoric to Reality"! REGISTER HERE.
On
Wednesday, July 13th
, we are hosting a full day of opportunity and collaboration as we dive into how Green Amendments serve as a viable constitutional pathway to environmental rights for all. Green Amendment Day will
spotlight
individuals' battles against toxic pollution, and virtual opportunities to
take action against climate injustice
, from unequal access to clean water, industry exploitation, to sacrifice zones, and more.
Since the NY Green Amendment successfully passed into the state constitution last November (2021)
, we believe it will be extremely beneficial the people of Maine to hear more about the environmental rights that can be guaranteed to them and how a Green Amendment can impact environmental injustices and struggles in the state and nationally.
Register for our evening panel
, featuring stories of resistance against environmental injustices spread across the country and expert analysis of what a Green Amendment can bring to impacted communities. Register now:
https://bit.ly/GADay22Panel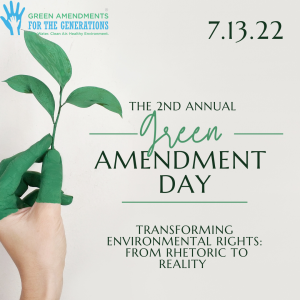 Green Amendment Day is dedicated to educating and engaging civil rights, environmental, environmental justice and BIPOC leaders and community members across the nation around the power of Green Amendments for ending environmental racism and restoring environmental justice through constitutional empowerment.
---
---