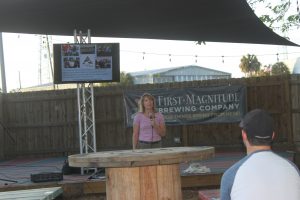 There had been a proposal in Florida, Prop 23, for amending the state constitution as part of the state as part of the Constitution Revision Commission. But the proposal did not rise to the level of being a Green Amendment. While Green Amendments For The Generations opposed the forward movement of this proposal because it was not a true Green Amendment, this proposal indicates that the people of florida are ready for a true Florida Green Amendment. Maya van Rossum, author of The Green Amendment and founder of Green Amendment For The Generations has been invited to Florida to speak about the concept many times. Keep an eye out on our calendar page for future talks or check out our watch and listen page to hear a big from the places she has already been.
We have spoken with many in Florida, including events sponsored by the St. John's Sierra Club, Third House Books & Coffee, SAIL High School, and a keynote presentation at the University of Florida Levin College of Law Public Interest Environmental Conference.
We look forward to working with interested grassroots organizations, civic leaders, legislators, and residents.
If you want to take steps to advance a Green Amendment in your home state, go here.
If you are interested in being a part of the effort, or have any questions, please get in touch with us.