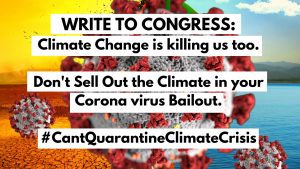 Congress is in the midst of considering a multitude of economic stimulus and bailout options intended to respond to the COVID-19/Coronavirus pandemic. It is imperative that in its response, Congress appropriately combats the COVID-19 crisis and economic fallout without exacerbating the Climate Crisis.
Please write Congress today to tell them that any economic stimulus and bailout legislation they are considering, advancing and passing must not support, further, advance or grow industries that are contributing to our Climate Crisis. That means no bailouts or support for the fossil fuel industry, for growing the expansion and manufacture of non-essential plastics that rely on fossil fuel ingredients, and/or increasing industrial or development operations that will increase climate changing emissions or further diminish or destroy the ecosystems necessary to help us battle the Climate Crisis.
It also means that any legislation passed must be proactive about supporting, strengthening and quickly advancing clean and renewable energy options and businesses that are part of the Climate Crisis solution such as clean cars, technologies that help prevent and clean up pollution, environmentally protective agriculture, development and other industries.
Our nation is facing the COVID-19/Coronavirus Crisis, but it is also facing a Climate Crisis.  The Climate Crisis is inflicting devastating harms on our health, safety, communities and economy. Without immediate and strong action it is, and will, alter life as we know it, including taking lives and inflicting enduring harms on present and future generations.
Like the COVID-19/Coronavirus Crisis, the Climate Crisis is costing communities their health, their safety, their lives and their livelihoods– it is inflicting unprecedented and increasing economic harm as the Climate Crisis advances and intensifies. In fact, it is inflicting even more harm than anticipated– it is taking people's homes, unleashing more viruses and health harms, desecrating prime agricultural areas, decimating ecological habitats and species, and releasing growing levels of pollution, while at the same time destroying the ecosystems that help avoid, reduce and manage pollution harms.
As the estimates of impacts of COVID-19/Coronavirus drive Congress to immediate action, we cannot forget the cost that climate change poses for our country and our world. The WHO estimates that climate change is already causing over 150,000 deaths annually, and this number is expected to double in the near future. Increased temperature alone is projected to lead to increases in future mortality on the order of tens of thousands of additional premature deaths per year in cities across the United States by the end of this century. Climate change damages will cost the United States hundreds of billions of dollars every year from extreme weather events and health-related costs. What's more, instances of threats like COVID-19/Coronavirus will increase as climate change compounds the threat of communicable diseases caused by parasites, viruses, and bacteria by extending their breeding seasons and accelerating their geographical expansion.
Let Congress know that you expect them to react responsibly in this moment of need – yes, they must respond to the COVID-19/Coronavirus Crisis, but they must, can and should, react in a way that not only avoids exacerbation of the Climate Crisis, but in a way that proactively strengthens our economy to allow us to defeat our Climate Crisis as well.
Send your letter today by adding your thoughts to the sample text below or sending it as is.  But whatever you do, please send your letter to Congress today, and urge your friends and family to do so as well.  We are in a moment when we can respond to the  COVID-19/Coronavirus Crisis in a way that helps or harms the Climate Crisis our future generations are facing as well.  Let's get double duty out of our investment, and advance economic solutions that addresses both Crises. (After filling out the form, a letter should appear which you can review and edit before sending).
---
---
---
Urge your state to pass a Green Amendment today
Encroachments onto our environment are becoming all too common. Much of the damage done is irreparable, often impacting large segments of the population for extended periods of time, and done with seemingly little or no recourse for the affected parties. When current laws and regulations have been unsuccessful at preventing environmental harm, stronger, more meaningful legislation is required that would ensure the public health and safety of not just present, but future generations.
A campaign is beginning, For the Generations, to motivate citizens to demand and secure high level Constitutional Environmental Rights in their states, and in doing so, provide the people with the legal framework to combat actions that violate their right to healthy environment.
On May 18, 1971, The Pennsylvania Supreme Court established in Article 1, Section 27 of the Pennsylvania Constitution that:
"The people have a right to clean air, pure water, and to the preservation of the natural, scenic, historic and esthetic values of the environment. Pennsylvania's public natural resources are the common property of all the people, including generations yet to come. As trustee of these resources, the Commonwealth shall conserve and maintain them for the benefit of all the people."
This amendment formally acknowledges the people's rights to these natural resources and establishes the role of the state to be a trustee of these resources. However, it was not until very recently that the weight of the law was given its due realization. In the 2013 landmark case of Robinson Township, Delaware Riverkeeper Network, et al v. Commonwealth, the PA Supreme Court found provisions of Pennsylvania's Act 13 law unconstitutional – that by upholding Act 13, which allowed oil and gas to bypass municipal zoning laws, the state would be sanctioning harmful degradation of environmental quality of life for its citizens, especially without substantive due process.
In effect, the case underscores the authority of the Environmental Rights Amendment to secure protections of our rights to clean air, clean water, and a healthy environment. It is our hope that we can inspire in citizens of other states an agenda to adopt into a Constitutional bill of rights, a commonplace expression of our fundamental rights to clean air, pure water, and healthy environment.
The movement is already underway, but each step is bound to your actions. Please take the first steps by contacting your State Senator, Representative, and Governor, urging for an Environmental Rights Amendment.