Green Amendments are self executing provisions added to the declaration of rights section of a constitution that recognize and protect the rights of all people, including future generations, regardless of race, ethnicity, socioeconomics or geography, to pure water, clean air, a stable climate, and healthy environments.
Assemblywoman Sarah Peters has proposed the Nevada Green Amendment. She has now been joined by Assemblyman Howard Watts & Assemblywoman Clara Thomas; as well as Senators Fabian Donate & Melanie Scheible.
The Nevada Green Amendment will place in the state constitution's Declaration of Rights, the right of all people to clean and healthy water, air, ecosystems and environment, and a stable climate. It will mandate these rights be protected equitably for all communities regardless of race, ethnicity, wealth, gender or where they live in the state. It will also require all Nevada government officials to protect the state's natural resources for both present and future generations.
RESOURCES:
What the Nevada Green Amendment means for my community
Nevada Green Amendment Key Points of Importance
Nevada Green Amendment Frequently Asked Questions & The Answers
How the Nevada Constitution is Amended
RECENT EVENTS:
3/9/2023: Nevada's first Green Amendment hearing held on March 9, 2023 before the Assembly Committee on Legislative Operations and Elections was very powerful. Compelling voices from Environmental Justice, Native American, Environmental Protection, Faith and Social Justice organizations of all kinds came out to speak in support. Industry came out with fake talking points repeating misinformation and sky-is-falling hypotheticals but could not outshine the passion and compelling advocacy of the grassroots, Nevada Environmental Justice Coalition members and our legislative champion Assemblywoman Sarah Peters.
You can watch the hearing here.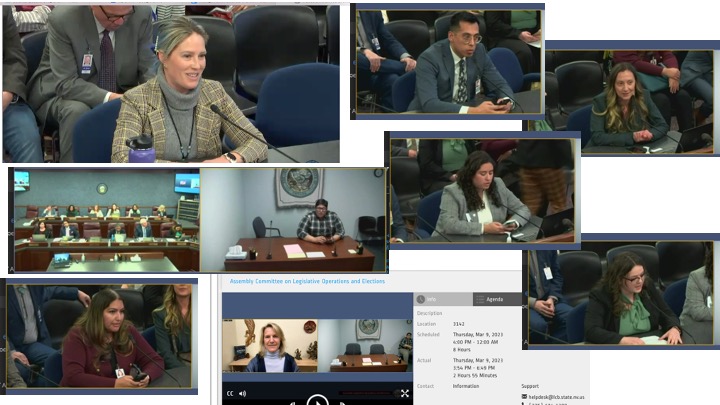 GET ENGAGED:
If your organization would like to sign on in support of the Nevada Green Amendment in order to lift up environmental rights in Nevada so they are given highest constitutional protection you can sign on your organization in support, be listed on the website as a supporter, and start to learn more and engage sign up here.
Get Active on the Nevada Green Amendment Action App. Join here — you can join the Nevada community only, or also join the national page to learn about the great ideas happening in other states.
To join the Green Amendment movement, sign up for your free membership here so you receive our newsletter, updates and learn about other ways to engage in Nevada and beyond.