Support Environmental Rights This Month!
In this special Earth Month Edition of our Green Amendment Newsletter, we will be highlighting many opportunities to support the Green Amendment Movement.
---
20% Off the Green Amendment Collection
All throughout April, Green Amendments For The Generations is offering a special 20% off discount on the Green Amendment Collection, including t-shirts, travel mugs, water bottles, and the Book that started the movement! At check out, use code: EARTH2021 to get 20% off and start shopping! Consider spreading the Green Amendment message to your friends and family by purchasing an extra gift that will directly support environmental rights. And for every order made during Earth Month, GAFTG will throw in a free "Protect my environmental rights" Face Mask.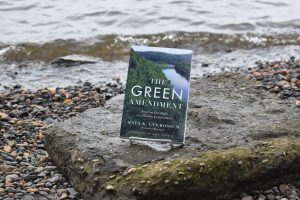 Purchase a Beanie to Support Environmental Rights
In honor of Earth Month, a Pennsylvania-based artist has knit several beanies and is donating all proceeds to Green Amendments For The Generations. These beanies are handmade, soft, thick, and warm. Made of 100% merino wool. The artist has a limited stock of blue, yellow, and brown adult sized beanies ($35 including shipping and handling) and one remaining blue child sized beanie ($25 including shipping and handling). More information is available on the artist's Instagram, where you can direct message her to place an order. Or send a direct email to Anneke at annekewalsh@vermontlaw.edu for inquiries. Limited supply!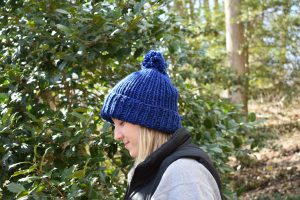 MOM's 5% Day Recipient – Dobbs Ferry, NY
We are a MOM's 5% Day recipient! When you shop at MOM's Dobbs Ferry, NY on April 28th, you're supporting environmental rights.
Did you know that MOM's Organic Market's purpose is to protect and restore the environment? To further this goal, they're donating 5% of their sales on April 28th to us to support our mission to recognize and protect the rights to pure water, clean air, a stable climate, and healthy environments for all people, including future generations!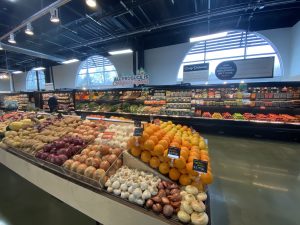 ---
Upcoming Earth Month Events
Join Green Amendments For The Generations and the Delaware Riverkeeper Network for the Spring 2021 Virtual Canoe Race, starting Monday, April 12 through Monday, May 3. VCR is an online education tool that offers information and activities on watershed geography, history and science in a trivia contest format for upper elementary and middle school classrooms and individuals. Registration is open for both our free, abbreviated Spring Race and low-cost, 6 week, Fall Race. Visit our website to learn more.
Here's The Story: The Green Amendment, Part Two Screening & Discussion
Tuesday, April 13, 7:00pm EDT
States across the nation are stepping up to protect our environmental rights! New York's Legislature is the first to pass a modern-day Green Amendment, which will now be placed on the ballot in November 2021 for New Yorkers to decide. Which state will be next? Join us for a film screening to learn about the transformational environmental justice benefits that a Green Amendment could have for impacted communities. The half hour film will be followed by a live discussion with Founder and Executive Director of South Ward Environmental Alliance, Kim Gaddy and Founder of Green Amendments For The Generations, Maya van Rossum.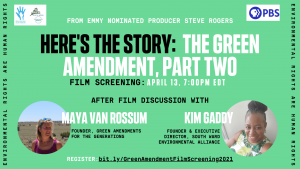 A Healthy Environment Is A Human Right
Wednesday, April 21, 7:00pm EDT
In this workshop at Clean Water Action's 35th Annual Conference, learn about New Jersey's movement for a constitutional Green Amendment protecting our environmental rights to clean air and water, a stable climate, and a healthy environment as an inalienable human right for all people and future generations. Topics to be discussed include how a NJ Green Amendment relates to climate and generational justice. Speakers include Clean Water Action's Environmental Justice Director Kim Gaddy, GAFTG Founder and Delaware Riverkeeper Maya van Rossum, and NJ Youth Leader Ashley Park.
How Can the Environmental Rights Amendment Save a Fractured State?
Thursday, April 22, 7:00pm EDT
Join the Sustainability Now Podcast for a special film screening and Q&A on Earth Day. Hosts Scott Bille and Mira Rubin will host two special guests to help us celebrate the 50th anniversary of Pennsylvania's Environmental Rights Amendment – the amendment that inspired the national Green Amendment Movement. Mark Lichty will share his short film Fractured State that shines a light on the damage being done by the fracking industry in Pennsylvania. Maya van Rossum will talk about how she led the charge to breathe new life into Pennsylvania's long ignored environmental rights amendment in 2013, and how she's using it as a model to push for constitutional protections in states around the country as a means to protect the people's right to pure water, clean air, and a healthy environment.
Green Amendment Earth Day Concert
Thursday, April 22, 7:00pm EDT
The Green Amendment concert, presented by the New Jersey Student Sustainability Coalition, represents a mixture of several art forms, including singing & songwriting, slam-poetry, visual art, short storytelling, and piano composition. Throughout the show, various speakers will give information about the Green Amendment, including how to support it in New Jersey. All of the art is related to the Green Amendment and protecting the environment. The concert will be live-streamed on NJSSC's Youtube account. There is no sign-up, but you can subscribe to their Youtube channel ahead of time.
Intergenerational Storytelling Workshop for the Green Amendment
Saturday, April 24, 12:00pm EDT
Join New Jersey Student Sustainability Coalition's Green Amendment team to celebrate both our planet and the Green Amendment. The Green Amendment includes both present and future generations in its text, and environmental issues are of the utmost concern to today's youth. However, we are not the first ones on the stage here! So, following the Amendment's lead, join us for an intergenerational dialogue and storytelling session on the Green Amendment. We'll do a brief training on storytelling, then split into breakout rooms with members representing as many different generations as possible where you will tell your own story about why you care about the Green Amendment. Our goal is to foster a safe space for sharing and hearing stories and for communicating between generations.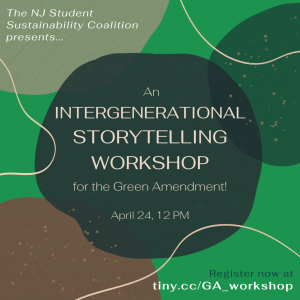 Environmental Justice Team of the Unitarian Society of Ridgewood, NJ
Wednesday, April 28, 7:00pm EDT
In the decades-long fight for a cleaner environment, we have been fighting a losing battle. The sad truth is, our laws are designed to accommodate pollution, rather than prevent it. The solution is to bypass the laws and turn to the ultimate authority: our state and federal constitutions. Maya van Rossum lays out a new agenda for environmental advocacy that can empower every American state to mobilize for constitutional change, and New Jersey is poised to become the first state with a modern day Green Amendment.