"Green Amendments are powerful for advancing environmental justice protections by ensuring government officials are protecting the environmental rights of all people and are constitutionally prohibited from creating environmental sacrifice zones." 

– Maya K. van Rossum, Founder of Green Amendments for the Generations and author of The Green Amendment: Securing Our Rights to A Healthy Environment
---
End Of Year Donations Jumpstart 2022 Green Amendment Advocacy!
The team at Green Amendments for the Generations is extremely grateful for the donations, support, and good wishes we received at the conclusion of 2021. Every dollar will go towards our advocacy for the Green Amendment movement in all of our active states.

All support for our Green Amendment work comes from donations and foundation grants. We do not seek nor accept money from big businesses with profits and goals that counter our mission of environmental protections. As Maya says, "I will not allow big business to use my reputation or this movement to greenwash their bad acts." Because of our dedication to living our beliefs, your contributions are even more important and valuable than you probably realize. Our Green Amendment movement is sweeping the nation with more and more states being inspired to join everyday. Rising to meet every request and need for assistance is critically important. Among our priority goals and needs is to ensure that we are able to support the engagement of BIPOC communities on the front lines of environmental justice initiatives. So we thank you for believing in the power and importance of this pathway for protection and for supporting us with your generous donations. Your advocacy and efforts help us move forward!

We simply and truly could not do this work without you. If you have not yet had a chance to support our 2022 work, but would like to, you can donate here.

---
Founder, Maya van Rossum, Named as
the 'Mother of the Green Amendment'
Our founder, Maya van Rossum, has been given a new title by the communities inspired by her work: the Mother of the Green Amendment! The Green Amendment team was excited to see Maya and her years of dedication recognized in such a poignant and powerful way. She is truly the "Mother" of our movement, and, as any good mother, she works day in and day out to help raise up others to learn, lead, and shine. Still haven't secured your copy of The Green Amendment: Securing Our Right to A Healthy Environment to hear Maya, in her own words, lay the foundation of the Green Amendment movement? Get a discount today on yours! The book is available in print, e-book, and audiobook.
Do you have a group or event that would benefit from learning about the Green Amendment movement? Request Maya to speak with your group or at your event. Check here to watch & listen to webinars and programs that Maya has been a part of in the past.
---
Active States with Green Amendment Proposals
At the start of 2022, we currently have 12 active states with Green Amendment proposals: Arizona, Delaware, Hawaii, Iowa, Maine, Maryland, New Jersey, New Mexico, Kentucky, Vermont, Washington, and West Virginia.
Donate to support our efforts in your state!
---
News from Across the Green Amendment Movement​​​​​
Walk for the Climate
On January 17th, Green Amendments for the Generations joined the Walk for the Climate event, hosted by the Climate Change Leadership Institute (CCLI)! Held on Martin Luther King Day, one day before the New Mexico state legislature began, the GAFTG team marched to the New Mexico Roundhouse with New Mexico residents to rally for the New Mexico Green Amendment and brave climate crisis actions. From four different locations, people of all ages and backgrounds came out in droves to walk to the Roundhouse, where captivating testimonies and narratives were shared about the need for climate crisis actions in New Mexico. CCLI states that "when we walk as a community for a cause greater than ourselves, like we can do now for the climate, like was done brilliantly during the Civil Rights Movement, it wakes us up out of our slumber. What we need in response to climate change is not a feeling of paralysis but movement; a mass movement" to protect our environment and therefore our humanity.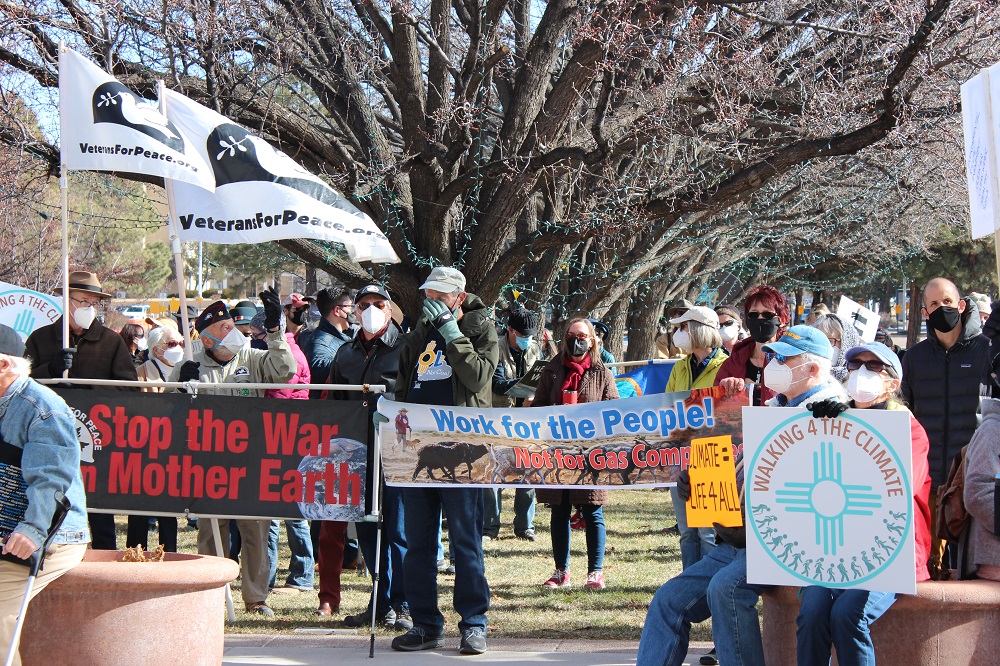 National Caucus of Environmental Legislators (NCEL) Boot Camp 
Teaming up with the National Caucus of Environmental Legislators, GAFTG held a Green Amendment Boot Camp for legislators from eight states interested in learning more about Green Amendments. The boot camp covered Green Amendment impacts on environmental protection landscapes, ways to advocate for Green Amendments, and how to collaborate with GAFTG to grow a coalition of support. Below, Maya and Senator Harold Pope, Jr. are pictured together at the NCEL boot camp.

Assemblyman Steve Englebright, the original champion of the recently passed New York Green Amendment, joined us for this day to share his experiences with Green Amendment advocacy and dedication that made it happen in his state. New York's Green Amendment was passed on November 2, 2021 with 70% of the public's support. As a result, we are seeing encouraging spurts of growth in many other states that we look forward to sharing with you.
​​​​​​

New Mexico Green Amendment Pre-filed in House and Senate
New Mexico leaders are applauding the proposal by New Mexico legislators to amend the New Mexico Constitution in order to add enforceable environmental rights. The Joint Resolution proposing the amendment was pre-filed by the sponsors on Wednesday, January 5, for the 2022 legislative session (HJR2). The proposed New Mexico Green Amendment is receiving strong upfront support with 24 legislators already signed on as cosponsors, including Representative Joanne Ferrary below! Read what community leaders, partner organizations, and legislators are saying about the New Mexico Green Amendment in the press release!

Washington State Leading the Way to A Green Future
A Green Amendment has also been filed in the state of Washington! First advanced in 2021 by Representative Debra Lekanoff, the Washington Green Amendment has now secured a powerful partner in Senator Mona Das! In addition, 350 Seattle has joined the advocacy as a lead grassroots partner helping to ensure a strong and growing coalition of educated supporters.
Hawaii Green Amendment Coalition Grows
Grassroots support for the Hawaii Green Amendment has been a high priority for the Mother of the Green Amendment, Maya van Rossum, and our lead partner, Ted Bohlen, Senator Mike Gabbard, and Representative Amy Perruso. Powerful engagement begins with the regular strategy planning and educational discussions that are underway in this key state! ​​​​​​
Resolutions for A Green Amendment
The states of New Jersey, Maine, and New Mexico are passing municipal resolutions in support of a Green Amendment for their state! This uptick in passed resolutions is an energizing sign, especially because this same pattern was present in New York prior to officially passing its new Green Amendment in November 2021. See the resolutions in detail for Maine (town councils of Camden and Brunswick), New Mexico (Dona Ana County), and New Jersey (Burlington County, Essex County, Cape May Pt, Aberdeen Township, Borough Bradley Beach, Medical Society of NJ, and Sierra Club – NJ) to gain some inspiration for what's possible in your municipality.
Interested in advancing a resolution in your community, but not sure how? Our recent Resolution Training for New Mexico leaders can be found here; while focused in New Mexico, these practices are easily translatable to your state.

If you want to engage your whole organization, community, or state in this effort, we can work with you to organize a municipal resolution training. Contact us at forthegenerations.org.
---
Presented by the Dynamic Mother-Daughter Duo, Maya and Anneke van Rossum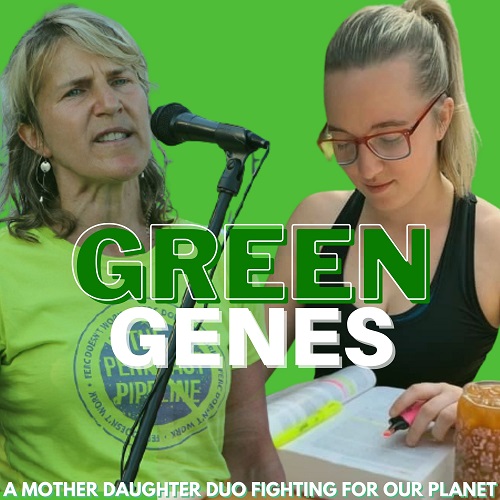 Maya van Rossum, the Mother of the Green Amendment, has been the Delaware Riverkeeper for over 27 years and founder of Green Amendments for the Generations (GAFTG)- an organization dedicated to getting every state a constitutional right to a clean and healthy environment. While inspiring people across the nation to fight for their planet, at home Maya inspired her daughter Anneke to follow in her footsteps. From hugging trees on the way to kindergarten class, to securing a law degree focused on the environment, Anneke has joined the family pursuit of saving the planet.
​​
---
Upcoming Events
New York State Bar Association Local and State Annual Meeting: Impact of the Green Amendment on Local Policies and Environmental Justice Communities
January 20, 2022 @ 10AM (EST) 
Check in with the New York State Bar Association's Annual Meeting to be aware of what's going on within New York's environmental justice field and the impacts of the new Green Amendment in the state! 

A Constitutional Right to Clean Air, Water, and a Healthy Climate hosted by Hawaii Climate & Environmental Coalition
January 29, 2022 @ 10AM (Hawaii Time)/3PM (EST) 
Hawaii has been a hub of environmental justice movements for decades and the Green Amendment is pulling interest from across the state! Learn about how the Green Amendment can be implemented in the environmental legislative and activist scenes of Hawaii with the Hawaii Climate & Environmental Coalition!

Follow us on Facebook to stay updated on events across the nation! 
---
The Know Your Rights Tote Bag is the perfect bag to accompany you throughout your day, bringing environmental advocacy with you on the go! This canvas bag is a crisp white, 100% Cotton, and can be utilized for all kinds of uses. Only $15.00!

​​​​​
---
Green Amendment Headlines ​​
Santa Fe New Mexican: Lawmakers to Consider the Green Amendment to New Mexico Constitution

The Paper (ABQ News): The "Mother" of the Green Amendment Comes Back to New Mexico

KNKX: The Green Amendment Would Add "Healthy Environment" to Constitutional Rights in Washington (State)

The New Mexico Green Amendment – Pre-filed (Press Release)

AZ Central: Senator Juan Mendez Pushes for A Green Amendment in Arizona

The Boston Globe: Protect the Environment by Maya van Rossum

Smithtown Matters: New York Votes for Clean Water & Clean Air

Law 360: How Green Amendments Protect Key Environmental Rights