What is a Green Amendment?
Green Amendments are self executing provisions added to the bill of rights section of a constitution that recognize and protect the rights of all people. regardless of race, ethnicity, religion or income, including future generations, to pure water, clean air, a stable climate, and healthy environments.
What's Happening in New Mexico?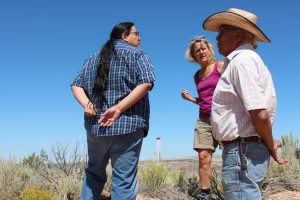 Energy for advancing a Green Amendment is growing in New Mexico.
The campaign is beginning with the grassroots, working in close coalition with indigenous leaders, informing communities about the benefits of a Green Amendment and collecting petition signatures to demonstrate to New Mexico legislators that a Green Amendment is widely supported by the public.
Help us demonstrate support for passage of a New Mexico Green Amendment, sign the petition today and be sure to share it with your friends. Read the petition and sign on here.
In addition to individual sign on support we are securing demonstrated support from organizations in the state.  If you are the leader of an organization, business or other entity, please consider signing our organizational letter of support found here.
In 2019 & 2020, Green Amendments For The Generations met with the All Pueblo Council of Governors, community leaders, interested legislators and government officials all interested in understanding what a Green Amendment could mean for protect the resources and communities of the state.
This video includes highlights of Green Amendment for the Generations Movement founder and Delaware Riverkeeper Maya van Rossum's visit to New Mexico and the voices of the residents about the need for an amendment that will provided constitutional protections for clean air and water."
---
Here's The Story, an Emmy nominated show that premiered in 2011 and is produced by acclaimed journalist Steve Rogers, is now featuring a two part show featuring the Green Amendment movement.  The show joins Maya as she explores the history of the Green Amendment movement and meets with environmental, political and legal leaders key to the movements past, present and future.  Among those interviewed is NJ Governor Phil Murphy, PA Senator Franklin Kury who originally conceived of the idea for PA, and the chief justice who wrote the iconic opinion that helped launch the movement.
You can watch the show, see facebook live chats with some of the key players, and see the full interviews that were conducted as part of the show here: Here's the Story: The Green Amendment.
Resources to help you learn more and spread the word: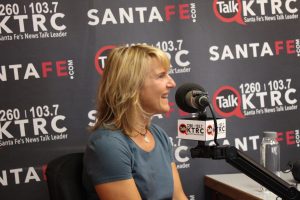 This why we need a Green Amendment handout helps make the case for pursuing a Green Amendment in New Mexico.  Use it as a resource to help inform and engage others. Also, answers to some of your pressing questions can be found on our FAQ.
Maya van Rossum interview with Richard Eeds on KTRC Santa Fe (2019-08-21)  Maya van Rossum appeared on the Richard Eeds show on KTRC Santa Fe to discuss the importance a Green Amendment can have in leveling the playing field for communities suffering from pollution.
Maya van Rossum Interview with Lorene Mills on Report From Santa Fe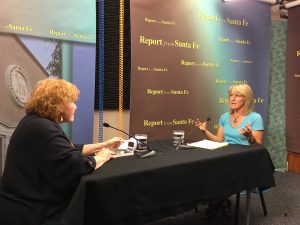 (2019-09-07) Maya appeared on Report From Santa Fe with Lorene Mills, a weekly television show that airs on PBS and brings national and international guests to the New Mexico state capitol to talk about issues important to the state.
Maya van Rossum talks with Retake Our Democracy on KFSR Radio on 2020-05-13:

Find lots more at our Green Amendments For The Generations resources page.
Take Action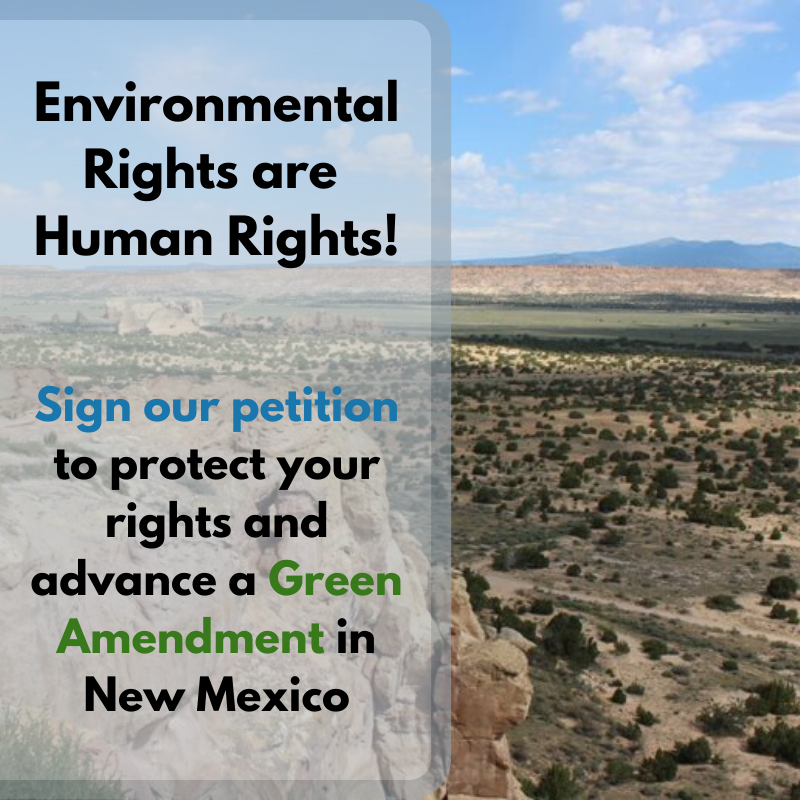 New Mexico Needs a Constitutional Amendment to Protect Our Right to Pure Water, Clean Air, a Stable Climate, and a Healthy Environment!
Sign the petition to get informed and engaged.
Leader of an organization, business or other entity? Please consider signing our organizational letter of support found here.
Documents to download and share:
Facebook Comments